Shoes - Lyrics
© Janina Serden & Kitt Moran
Shoes…we need them to go with every mood
Shoes…we want them to have an attitude
So…what makes them such a love affair?
Just when you think you've got enough
You see another pair!

Go collect them
All colors, every shade
Then…embark on a fantasy crusade
For…the power of leather and brocade
There's not a store or shopping mall
We will not invade

Anything you want to be
Trendy, sexy or carefree
Doesn't matter what your size, we can still accessorize
So let's go shopping, let's go shopping

This obsession can drive a girl insane
We'll put up with excruciating pain
For such pleasure, 'cause we're just that vain
For five-inch heels…tres difficile
We will not complain

Shoes…we use them to decorate our clothes
Cinderella and everybody knows
That the fetish becomes a fairy tale
When you find the perfect kind
And they're on sale!
DOWNLOAD THE AUDIO SAMPLE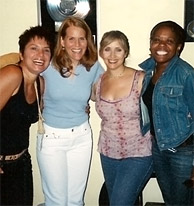 Shoes

This song comes from the new musical CHICK SOUP - Find out more at the website.

Kitt Moran and Janina Serden Sebesky wrote CHICK SOUP: A Musical Recipe for Friendship to celebrate their thirty-year friendship. Performed by celebrated divas Elaine Caswell, Julia Wade, Emily Bindiger and Catherine Russell.
MORE ABOUT THIS ARTIST...
---
Each Gift Includes...
A CD of an original song inside a beautifully crafted 6x6 inch note card with matching envelope and paperboard mailer. The song lyrics are printed on the back of each card using recycled paper and green earth technology.

Price $7.95 plus shipping


Direct Mailing Service
With a Card and a Song will handwrite your personal message inside your card and mail it directly to your recipient. Simply type your message below, then use the recipient's address in the "ship to" section while checking out.