This Is Menopause - Lyrics
© Janina Serden & Kitt Moran
This is menopause
I am finally free
I am becoming the woman
I always wanted to be
I wanna feel the anger
Feel the rush
I don't need a therapist to get a Royal Flush
This is menopause
Now, it's all about me

This is menopause, honey
No, it's not a disease
I have never been better
I don't need H.R.T
I will please myself
Swing my mood
Don't medicate me for my attitude
This is menopause, honey
Girl, it's good to be me

I'm tired of waiting and watching while others fly
It's now or never, what better time to try?

This is menopause, sugar
I just walked through the door
I am destined for glory
I'm more than you bargained for
I wanna feel my muscle
Feel my clout
I'll give 'em something to talk about
This is menopause, sugar
Don't you wish you were me?

I'm really burning with fire to spread my wings
I've got a knowing it's my time for great things

This is menopause, sister
There is good news to share
Take some friendly advice
From someone who is already there
You can get the answers you can trust
If you want the real story, you can always ask us
This is menopause, sister
You can take it from me
Menopause can set you...free

DOWNLOAD THE AUDIO SAMPLE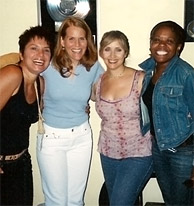 This Is Menopause

This song comes from the new musical CHICK SOUP - Find out more at the website.


Kitt Moran and Janina Serden Sebesky wrote CHICK SOUP: A Musical Recipe for Friendship to celebrate their thirty-year friendship. Performed by celebrated divas Elaine Caswell, Julia Wade, Emily Bindiger and Catherine Russell.
MORE ABOUT THIS ARTIST...
---
Each Gift Includes...
A CD of an original song inside a beautifully crafted 6x6 inch note card with matching envelope and paperboard mailer. The song lyrics are printed on the back of each card using recycled paper and green earth technology.

Price $7.95 plus shipping


Direct Mailing Service
With a Card and a Song will handwrite your personal message inside your card and mail it directly to your recipient. Simply type your message below, then use the recipient's address in the "ship to" section while checking out.