Joy, Peace and Music - Lyrics
©
Janina Serden
May joy, peace and music
Fill your holiday
And everything you do and say
May fun, love and laughter
Fill your life with song
So you can learn to sing along

When friends and family gather
It's time to celebrate
And stop to give thanks for all your blessings

May dreams, hope and sunshine
Fill your heart with light
And your future will be bright
DOWNLOAD THE AUDIO SAMPLE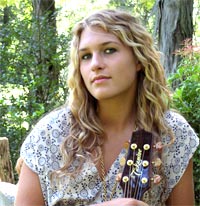 Joy, Peace and Music

written and performed by
Janina Serden and Olivia Sebesky

Olivia Sebesky puts her thoughts and feelings to music. In addition to writing and recording music, she is passionate about painting and drawing. Olivia is proud to be a songwriter for The Songs of Love Foundation.
MORE ABOUT THIS ARTIST...