One In A Million - Lyrics
© Olivia Sebesky
If I could see you now
I'd tell you what I've been thinking about
I'd whisper in your ear, but I'm not sure
That you heard me loud you heard me me clear

It's not that I forgot to mention
It's always on my mind
So maybe this will break the tension
Just give me some time

'Cause you're one, one in a million
And I've already found you
You and I complete each other like no other
One, I'm one in a million
It's the loneliest number
But it's not so true when I'm with you
'Cause we make two

We were always friends, it's funny
I can't remember how we met
Or what I'd do without your hands to hold when mine
We're cold and the lights were all out
We were only thirteen when you asked me to that dance,
And all I have to say right now is
I'm glad you took the chance

'Cause you're one, one in a million
And I've already found you
You and I complete each other like no other
One, I'm one in a million
It's the loneliest number
But it's not so true when I'm with you
'Cause we make two

And I wanna take some time, to show you
Show you the way that I feel
And I know no matter what I do, it always, it always Comes back, right back to you

It's not that I forgot to mention
It's always on my mind
So maybe this will break the tension
Just give me some time

'Cause you're one, one in a million
And I've already found you
You and I complete each other like no other
Some, we're some in a million
Only two in a billion
All you need is me and all I really need is
One, one in a million
And I've already found you
You and I complete each other like no other
Some, we're some in a million
Only two in a billion
All you need is me and all I really need is you
DOWNLOAD THE AUDIO SAMPLE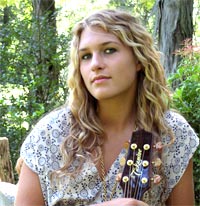 One In A Million

written and performed by
Olivia Sebesky

Olivia Sebesky puts her thoughts and feelings to music. In addition to writing and recording music, she is passionate about painting and drawing. Olivia is proud to be a songwriter for The Songs of Love Foundation. MORE ABOUT THIS ARTIST...
---
Each Gift Includes...
A CD of an original song inside a beautifully crafted 6x6 inch note card with matching envelope and paperboard mailer. The song lyrics are printed on the back of each card using recycled paper and green earth technology.

Price $7.95 plus shipping


Direct Mailing Service
With a Card and a Song will handwrite your personal message inside your card and mail it directly to your recipient. Simply type your message below, then use the recipient's address in the "ship to" section while checking out.